Is The da Vinci® Surgical System Right For You?
The da Vinci® Surgical System is the most advanced tool available for the precise surgical removal of the prostate gland (prostatectomy) and other complex surgical procedures. Prostate cancer is the most common cancer in men, affecting one in seven, and is the second leading cause of death. If you or a loved one has a prostate cancer diagnosis, the da Vinci® Surgical System may be right for you.
How the da Vinci® Surgical System Works:
Powered by state-of-the-art robotic technology, the da Vinci® surgical system is guided by a skilled surgeon positioned at an operating console near the patient. The surgeon performs the procedure through small laparoscopic openings using tiny surgical instruments.
With only small incisions required, the surgeon's hand movements are scaled, filtered and translated into precise movements of micro-instruments. A magnified, three-dimensional high definition camera gives the surgeon an exceptionally detailed view throughout the procedure.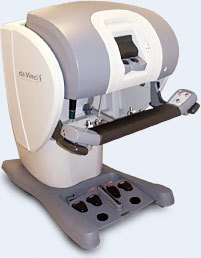 Advantages of the da Vinci® Surgical System:
Shorter hospital stay
Smaller incisions
Reduced pain
Minimal blood loss
Faster recovery
Quicker return to normal activities
If you have any questions regarding the da Vinci® Surgical System or if you think it may be right for you, our team of professionals are here to answer any questions to help you make an informed decision. We at Western Michigan Urological Associates want to work with you to find the best option for you and your family. Ask Your Primary Care Provider for a Referral.