Breakthrough Laser Technology for More Effective Treatment and Patient Care
WMURO patients can now benefit from the latest in stone removal and BPH treatment. Olympus Soltive™ SuperPulsed Laser System is an advanced technology that enables physicians to deliver quicker and more efficient stone removal. This improved laser technology will allow WMURO surgeons to more effectively treat patients requiring lithotripsy and soft tissue or benign prostatic hyperplasia (BPH) treatment.
During the past 30 years, the US has seen an upward trend in the prevalence of kidney stones, a crystalized particle formed when chemicals in urine concentrate.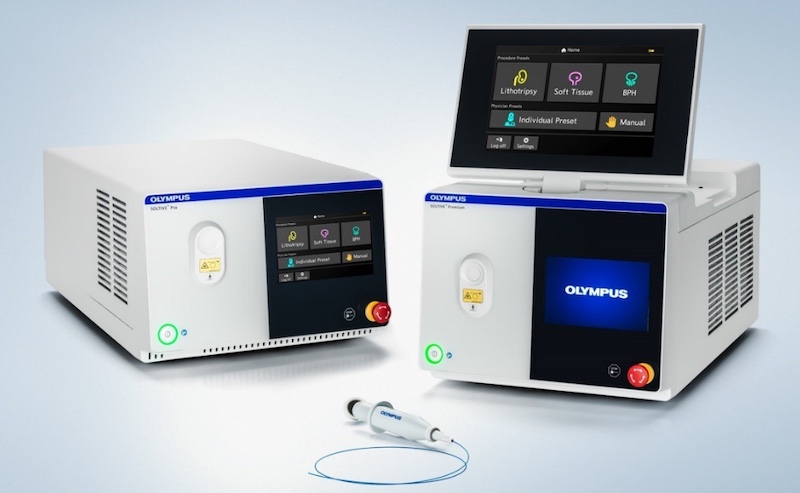 According to the National Kidney Foundation, each year more than half a million Americans go to the emergency room for kidney stone problems, and it is estimated that one in ten people will have a kidney stone at some point in their life.
"Treating kidney stones is a common occurrence in our office," said John Ludlow, MD, urologist with Western Michigan Urological Associates. "Not only does this advanced laser technology allow us to treat patients more effectively but it may result in shorter procedure times and less patient discomfort."
The Soltive SuperPulsed Thulium Fiber Laser System is an all-in-one platform for lithotripsy, soft tissue and BPH. It's considered the first major breakthrough in laser technology in two decades. Soltive combines lower energy levels and higher frequencies providing increased capabilities in eliminating kidney stones in less than half the time.
If you have any questions regarding the SOLTIVE™ SuperPulsed Laser System or if you think it may be right for you, our team of professionals are here to answer any questions. We at Western Michigan Urological Associates want to work with you to find the best option for you. Ask Your Primary Care Provider for a Referral.